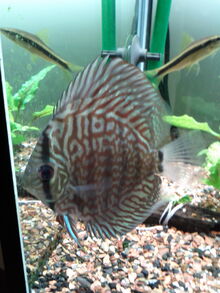 Fish
 have the highest feed to meat conversion ratio of any animal, meaning that aquaculture is one of the most efficient production systems.
They are monogastrics that inhabit a variety of aquatic environments from freshwater (cold and tropical) to brackish to marine and are also a common ornamental pet. This wiki will focus on managing fish in an aquarium or an 'isolation/observation' tank in an aquacultural production system.
Work through the following aquaculture modules and then take the quiz at the end:
All items (4)
Community content is available under
CC-BY-SA
unless otherwise noted.